On July 15th, we published an article: CJ is Going to Integrate With  Lazada for Dropshippers to announce we will begin our integration with Lazada platform. After one month, we complete the integration with Lazada which means you can connect your Lazada store with CJ Dropshipping and we source and ship for you. From today on, we can work together to boost our dropshipping business.
Then, here is the thing about how to connect your Lazada store to CJ Dropshipping.
1.Log in CJDropshipping and enter your dashboard. Find the Authorization > Lazada > Add Stores

2. Click Add Stores, the authorization page will appear as the following image shows. On this page, you can choose English, Chinese and Vietnamese language. Then fill in the required information including Country, Email and password. If there is something wrong with your country information, you can pick Crossborder as the country but this may bring not as smooth service as that of other specific countries.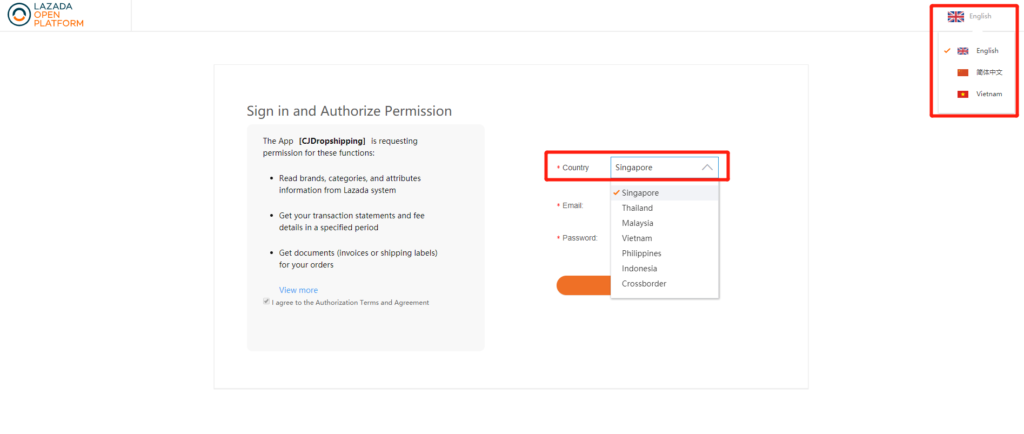 Till now, the necessary steps of Lazada store authorization have finished. However, there is a feature that should call your attention because of Lazada's restrictions.
When you conduct our List feature which can directly put our product description on your Lazada store, you can put the product you want in different categories it belongs to because some categories are not available which doesn't affect the whole fulfillment of your orders. For example in the image, it doesn't matter that the item classified as Kitchen Storage can be put on Bags and Travel.
That's all about how to connect your Lazada store with CJ APP. CJDropshipping growing fast, we have finished integration with platforms like Shopify, eBay, Woocommerce Shopee, and today Lazada and others. Once we complete those, we will absolutely tell you guys immediately. CJDropshipping always keeps on moving.